A WARM WELCOME!
Thank you for visiting our web site today!
We invite you to visit our church Sunday School for all ages at 8:45 am and worship with us each Sunday at 10:00AM! Please check our calendar for other fellowship opportunities. Our Children's Sunday school and Adult Education classes are held at 8:45 AM. Sunday School for the youth is held upstairs. A nursery is available for childcare during Sunday school and Worship services.
Mission Statement: In gratitude to God, empowered by the Holy Spirit, we strive to discern what God is calling us to do as we serve Christ in our daily and corporate lives through worship and spiritual formation, education and discipleship, hospitality and fellowship, and mission. Putting our faith into action, we seek to create a loving community that God challenges, renews, equips, and sends out into the world to love others, to care for the sick and needy, to demonstrate kindness and mercy, and to work for justice and peace.
---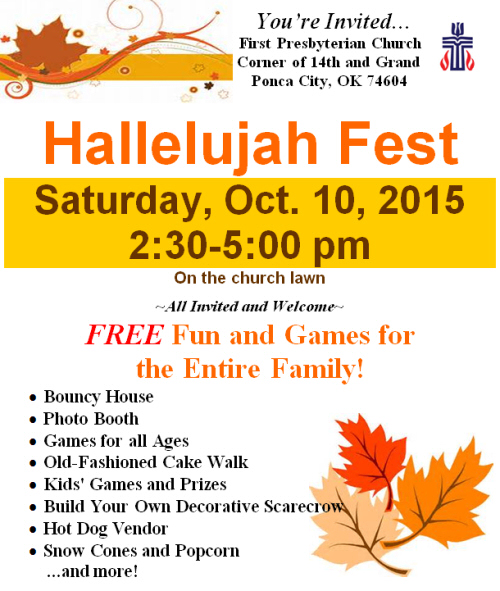 ---
This Week's Events
Monday October 5
5:00 pm Cub Scouts
5:00 pm TOPS
7:00 pm Bible Study
Tuesday October 6
Christy out for the rest of the week
1:00 pm Quilters
6:30 pm Evangelism Committee
7:00 pm Worship

Wednesday October 7
5:00 pm Bell Choir Practice
5:30 pm Midweek Dinner
6:00 pm Youth Group
6:00 pm GOLD
7:00 pm Chancel Choir Practice

Thursday October 8
9:00 am TOPS
Noon PW - CT
1:00 pm Presbytery Women
1:00 pm Admin and Finance Meeting
Saturday October 10
2:30 pm Hallelujah Fest on front lawn
Sunday October 11
8:45 am Church school for all ages
10:00 am Worship Service - Sanctuary


Monday October 12
5:00 pm Cub Scouts
5:00 pm TOPS
7:00 pm Bible Study

---
All are invited and welcome to participate in the following Bible studies throughout the week:
ADULT EDUCATION Sunday (8:45 AM):

FAITHWEAVER STUDY FOR ADULTS – The Bible study, related to the lectionary readings and paralleling the scriptural basis of the children's classes for the same day, meets on the lower level in B-5, Multi-Purpose Room. Steve Ernst leads the study.
HOW GOD DEALS WITH EVIL: "The Divine No in Scripture" - A number of biblical passages tell us that God is a God of retribution; to the evil, the unjust, and the ungodly, God often speaks words of wrath and even announces retaliation. Rev. Taylor leads this study to see what some scriptures tell us about God and what they don't say. In room B-9 on the lower level ("Old Quilters' Room").
ADULT EDUCATION This Monday (7:00 PM):
Jeremiah – Mark Southard continues a reading and discussion of the Book of Jeremiah. The class meets on the lower level in Room B-9 (lower level).
Children and Youth Sunday School and Activities at First Presbyterian Church
Children and youth are encouraged to join us each Sunday morning at 8:45am. We offer classes for nursery/preschool, elementary aged children, and middle school and high school youth. The preschool, elementary children, youth and one adult class use the Faithweaver Bible study curriculum. Each class studies the same scripture in an age appropriate way, and the adults are encouraged to engage the children and youth in conversation about their Bible lesson each week

September through May the elementary children are invited to GOLD (Giving Our Lives to God Daily) directly following our midweek meal. This is a structured time of interactive activities that are tied to the week's Bible study lesson. Wednesday 5:30-7:00 pm

The youth group also meets at this time for fellowship, activities, and Bible study under the direction of fulltime youth director, Annette Newcomb. They are a growing youth group with a focus on building healthy and happy relationships and growing closer to God. Wednesday 5:30-8:00 pm
Please contact Christy Aday, at 580-762-2431 for additional information.
---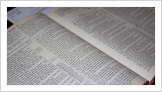 Order Of Worship:
EIGHTEENTH SUNDAY AFTER PENTECOST - TWENTY-SEVENTH SUNDAY IN ORDINARY TIME
Scriptures:
3:1-8 & I Corinthians 13:1-13
Sermon:
Shared Experiences of the Czech Republic Mission Team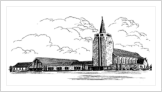 PresbyNews & The Link
Read the latest information available!
Read PresbyNews here!

|
Read The Link here!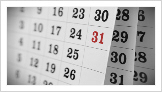 Calendar
Current months events to keep you informed and updated
See Calendar Here!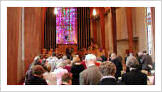 Pastor Sermons
Recent Sermons can be heard here!
Click Here To Browse & Listen To The Sermons!